Quick Links
Events
Upcoming Events:
For upcoming events, visit our Eventbrite Profile or click on links below.

Join the Wellington Guelph Drug Strategy and partners for a full-day event , which will prepare you, or your organization, to integrate the crucial and complimentary role that Peer Workers play in providing harm reduction and addiction services. The day includes two streams of workshops, one for Organizations/Employers and the other  for Peer Workers / members of the lived experience community.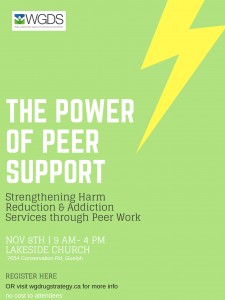 Recent Events:
A Kitchen Table Talk: Opioids 101 | October 10th, 2018
A frank discussion about some of the myths and realities surrounding opioid use. Speakers from the lived-experience community, professionals, and peer workers. In partnership with Wellington North Safe Communities.
Stop the Stigma Rally | Sept 28th, 2018
Come show your support & help bring awareness to the harms perpetrated by the stigma surrounding substance use and addiction, both for individuals who struggle with substance dependency and for society as a whole. The rally is a call-to-action, inviting everyone to replace stigma with information, understanding, compassion and assistance.
Pregnancy, Breastfeeding and Substance Use | June 21 & 22, 2018
Dr. Lisa Graves, a family physician and author, presented an approach to identify and manage substance use in pregnancy and post-natal care. A particular focus of the presentation was on the use of cannabis, cocaine and opioids.
Safe Opioid Prescribing for Acute and Chronic Pain | May 3, 2018
Dr. Stern, a lead physician and member of the 2017 Canadian Opioid Guideline Panel, presented information on managing chronic non-cancer pain with opioids. Local prescribers were encouraged to attend.
Opioid Overdose Prevention and Naloxone Training | April 17, 2018
The WGDS presented how to recognize and respond to opioid overdose. Free naloxone kits were provided.
The Endocannabinoid System and the Role of Cannabinoids in the Body | March 6, 2018
Dr. Michael Beazely, an Associate Professor and Associate Director for Curriculum at University of Waterloo Pharmacy, presented a lecture of cannabis basics.
Acute Care Responses to Patients Who Use Methamphetamine | Feb 15, 2018
Dr. Alexander Caudarella, an addiction physician, presented information about learning evidence-based guidelines for working with stimulant users and for treating meth-induced psychosis.
Marijuana for Medical Purposes: Who, What, Where, When and How? | Nov 30, 2017
Dr. Maria Zhang, a Clinician Educator, presented a workshop that addresses the need for access by health care professionals to unbiased, scientific evidence for the use of medical marijuana. This event was co-hosted by the Guelph Pharmacist Association.
Cannabis Legislation: Resources and Readiness Event | Nov 29, 2017
The WGDS hosted a panel discussion and resource fair about legalizing cannabis in our community. This information-focused event included panelists from police services, public health, mental health, addiction professionals, medical prescribers, and licensed producers.
Stop the Stigma Rally | September 29, 2017
Hosted by the WGDS Harm Reduction Committee at Guelph City Hall.

Click here to download the 2017 Stop the Stigma Rally poster